"Life is a school, where you learn to remember what your soul already knows." –?
The
I

nclusive

C

ultural

U

niversity welcomes you…

and represents the school of life. THE University. However, it isn't an actual brick and mortar university. Now when you think of a university, hopefully a higher level of education being obtained comes to mind. ICU is a lifestyle – an understanding that we are forever students and can learn from one another.

Let's make this simple – by joining ICU, it symbolizes you fully value and respect EVERYONE for who they are. Can we respect one another's journey? Then ultimately, we're going to have to agree to disagree, with (here comes that word again) RESPECT. Give respect and expect respect.

Want to see something that's not talked about everyday? There is just one biological race…the Human race. A proven scientific FACT. Now most of us have been taught in school or company trainings about the things that make humans different, And that we should respect those differences. Yet we still have individuals that feel they are justified in making certain groups of people inferior. If you are one of those individuals, please understand that The Inclusive Cultural University is for ALL, but you are not ready yet.
ICU is Exclusive to those that are inclusive
ICU (I See You) is founded on a simple message of substance – "I see you, I respect you, I acknowledge you" – and uplifting the individuals, schools, organizations, corporations, and law enforcement agencies that identify with this lifestyle.
Notice the individual is listed first…YOU. It starts with you! Can you commit your character to be better? To be an agent of change in your family and circle of peers? To be an ICU "Change" Agent? Can You fill in the _?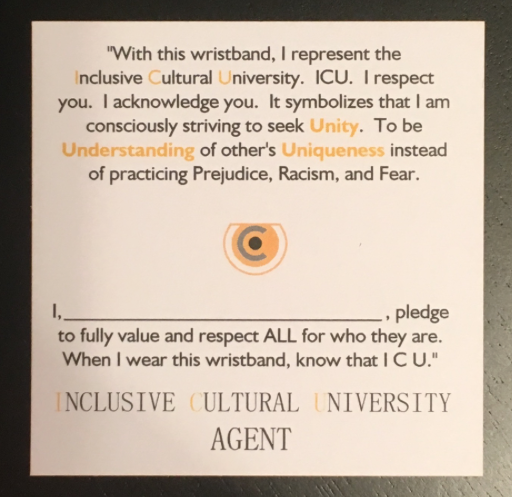 #CampaignOfConsciousness